A welcoming guesthouse based in the scenic Lecrin Valley near Granada, Spain
Welcome
As part of the campaign set up by Ian Rutter & Andrew Watson of Casa Higueras, we pledge to offer 2x free 3 night short breaks in our Moroccan Suite on a room only basis during the summer of 2020 (to be taken before end October) & subject to availability, to @NHSuk hospital staff at our B&B here in the tranquil village of Pinos del Valle, when the coronavirus crisis eases and travel restrictions are relaxed.  We all need something to look forward to #MyTravelPledge.  
If you would still like to visit this beautiful area and our free offers have been allocated then we would be willing to offer a discount off our normal room rates – contact us direct to discuss in more detail.  
Casa Molino is a B&B guesthouse situated in the upper barrio of the Andalucian hillside village of Pinos del Valle – one of 17 villages which make up the Lecrin Valley (Valle de Lecrin translates as Happy Valley). This traditional village house has been reformed and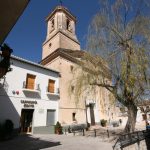 updated by ourselves over the last 10 years to provide a spacious but welcoming house in which to enjoy your holiday. We offer 3 guest rooms all with ensuite bathroom, lounge/breakfast room & terrace area for exclusive use of guests.The house is a short stroll from the main church square where you can find the local supermarket/butchers and the local bakery is also close by.  The village also has its own olive oil mill – S.C.A. San Roque.  This cooperative is made up of over 200 local farmers and produces beautiful olive oil, with the most recently launched Extra Virgin Olive Oil – Orovalle.
Visitors to Pinos can purchase olive oil directly from the Cooperative to take home with them.
About Casa Molino
The house is located in the upper part of the village close to the church square and has a spacious reception area on the ground floor with two guest rooms located off from this area.
On the first floor there is the guest lounge/breakfast room with an area for guests to prepare their own breakfast & snacks. Finally on the second floor we have the third guest room and access to the terrace where views of the Ermita & surrounding area can be enjoyed. The terrace has tables & chairs (along with a BBQ during summer months) for exclusive use of guests.
All guest rooms have local & international TV and free wifi is available throughout the house. 
Pinos del Valle
Pinos del Valle, or El Pinar as it is locally known, is a working Spanish village which has hardly been touched by tourism and is an ideal base from which to explore the surrounding area. It is just over an hours drive from Malaga airport, 45 minutes from Granada airport, 30 minutes from the beautiful city of Granada which is renowned for its historic Moorish palace – The Alhambra, 20 minutes from the spa town of Lanjaron and 20 minutes from the Costa Tropical and its beaches.
At 700 metres (2,300 feet) above sea level El Pinar has approximately 1125 inhabitants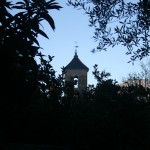 and is split into two parts – barrio bajo which is the lower part of the village and barrio alto which is the upper part – Casa Molino is located in the upper barrio. Each barrio has its own church and the upper barrio contains bars, shops, bakery, pharmacy and bank.
Set high up above the village is the Ermita de Santo Cristo del Zapato and can be seen from the guest terrace. It is well worth the 40 minute trek up to the Ermita as the views from the top are stunning.
In May, Dia de la Cruz fiesta honors one of the local saints – Santo Cristo del Zapato and takes place from 1 – 3 May each year. For three days this quiet village comes alive with music, dancing, traditional processions, rockets & a stunning firework display. Locals and visitors alike enjoy the celebrations and hospitality of the village.
The next big village fiesta in honor of San Roque takes place 15, 16, & 17 August.  This celebration not only honors San Roque but also the Virgen del Rosario and San Sebastian.    Family & friends arrive in the village to enjoy the festivities and again this quiet village comes alive with music, dancing, fireworks etc. If you are looking for a quiet break then this may not be the time to visit, however if you are looking for fun and festivities then come along and join in. The locals of Pinos will welcome you with open arms and make your stay an enjoyable one.
For more information about Pinos del Valle and the Lecrin Valley visit Turismo Valle de Lecrin, Granada Play or the Lecrin Valley.org websites and if you'd like to explore Granada book a guided tour around Granada or the historic Alhambra Palace.
Visit the Granada Tourism website for lots of information on what to do and see in and around the Granada region – lots of maps & information to download – www.turgranada.es

Contact Us
More information about our rooms, house and the area can be found on our website. 
Please note we are Alojamiento Rural Compartido, therefore we do not rent out the whole house as we also live at the property.  Our rates are for B&B style accommodation only.  If you would prefer self catering accommodation we have some links to properties under our Blog/Useful Links section: http://casa-molino.com/blog/useful-links/
If you'd like any further information or to make a booking please contact us on the following numbers:
Tel. +34 958 793 928

Mobile: +34 663 607 192 or UK Mobile: 07789 475 478
E-mail:  enquiry@casa-molino.com

We look forward to sharing our house and this beautiful part of Andalucia with you.
Mel & Phil Kidby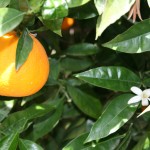 Vivienda Turistica de Alojamiento Rural No. RTA:  VTAR/GR/01111