Large luxury village house for sale in Pinos del Valle – €430,000
  Pinos del Valle is one of 17 villages which make up the Lecrin Valley (Valle de Lecrin translates as Happy Valley).  The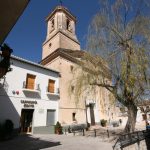 main church square is where you can find the local supermarket/butchers and the local bakery is also close by.  The village also has its own olive oil mill – S.C.A. San Roque.  This cooperative is made up of over 200 local farmers and produces beautiful olive oil, with the most recently launched Extra Virgin Olive Oil – Orovalle.

Visitors to Pinos can purchase olive oil directly from the Cooperative to take home with them.
Pinos del Valle, or El Pinar as it is locally known, is a working Spanish village which has hardly been touched by tourism and is an ideal base from which to explore the surrounding area. It is just over an hours drive from Malaga airport, 45 minutes from Granada airport, 30 minutes from the beautiful city of Granada which is renowned for its historic Moorish palace – The Alhambra, 20 minutes from the spa town of Lanjaron and 20 minutes from the Costa Tropical and its beaches.
At 700 metres (2,300 feet) above sea level El Pinar has approximately 1125 inhabitants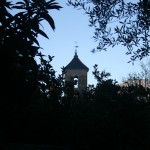 and is split into two parts – barrio bajo which is the lower part of the village and barrio alto which is the upper part.  Each barrio has its own church and the upper barrio contains a bar, shop, bakery, pharmacy and bank.
Set high up above the village is the Ermita de Santo Cristo del Zapato and can be seen from the guest terrace. It is well worth the 40 minute trek up to the Ermita as the views from the top are stunning.
In May, Dia de la Cruz fiesta honors one of the local saints – Santo Cristo del Zapato and takes place from 1 – 3 May each year. For three days this quiet village comes alive with music, dancing, traditional processions, rockets & a stunning firework display. Locals and visitors alike enjoy the celebrations and hospitality of the village.
The next big village fiesta in honor of San Roque takes place 15, 16, & 17 August.  This celebration not only honors San Roque but also the Virgen del Rosario and San Sebastian.    Family & friends arrive in the village to enjoy the festivities and again this quiet village comes alive with music, dancing, fireworks etc. If you are looking for a quiet break then this may not be the time to visit, however if you are looking for fun and festivities then come along and join in. The locals of Pinos will welcome you with open arms and make your stay an enjoyable one.
For more information about Pinos del Valle and the Lecrin Valley visit Turismo Valle de Lecrin website and if you'd like to explore Granada book a guided tour around Granada or the historic Alhambra Palace.
Visit the Granada Tourism website for lots of information on what to do and see in and around the Granada region – lots of maps & information to download